ASIA DRILLING Pte Ltd
YOUR LOW COST SOLUTION TO OFFSHORE DRILLING AND WORKOVER IN ASIA


Within the Regions of South East Asia and South Asia drilling activity is at record levels. Many areas are in the middle of major offshore expansions. High oil prices have resulted in many new oilfield projects being developed. This has led to very tight rig availability and high rig day rates. The result of these high rig day rates is that there are currently very few options available for low cost or short duration Offshore Drilling and Workover Operations.

Our aim is to provide low cost, flexible solutions to Offshore Drilling and Workover Operations. Asia Drilling 1 (AD-1) is a self erecting drilling and workover rig that has recently been shipped from the North Sea. AD-1 has the following features:

• Designed and built in the US by DRECO to a "Spacesaver" design
• Built to API and UK DOE standards
• Approved by UK DOE to work in the North Sea
• Approved by Lloyds Classification Society
• Versatile modular design - maximum lift 13 tones
• Small footprint - ideal for wellhead jackets with weight and space limitations
• Equipped with two derricks
• Dynamic derrick certified for use on floating platforms
• Equipped with skid beams to reach all platform slots with derrick full of pipe
• Platform rig up in 2 days using platform crane and rig crew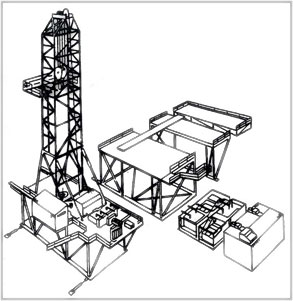 AD-1 Specification
|   Rig Name | Asia Drilling 1 |
| --- | --- |
|  Type | Modular space saver drilling workover rig |
| Classification Society | Lloyds |
| Design | Dreco single or double |
| Rated Operating Parameter | Workover 20,000ft - Drilling 11,000ft |
| Present Location | South East Asia |
| Maximum Platform Lift | 13 tonnes |
| Maximum Derrick Load | 450,000 Lbs |
The rig can be utilized in three different modes:
• Total package rig up with full substructure, elevated and cantilevered pipe deck.
• Drilling package only with pipe handled from platform deck or support barge.
• Dynamic derrick with either of above.

Asia Drilling is committed to operating in a safe working environment and offers clients a fit for purpose and cost effective service. Asia Drilling's management is drawn from experienced professionals with international drilling contractor, operator and service company backgrounds.  An experienced drill crew along with a large support organization is already in place.
AD-1 is now available to contract for Drilling and Workover Operations throughout the Region. Contact us for details on our equipment or request for a quote.