Petrochem Network (M) Sdn Bhd (PCN) was incorporated in Malaysia under the Companies Act, 1965 on 17 October 1992 as a public limited company under its present name.
PCN is a 100% Bumiputra service company in oil & gas industry, provides a diverse range of supporting specialized products and services for the oil and gas industry, particularly the exploration and production of oil and gas. We are focus in delivering quality engineering products and services locally and internationally. With exceptional technical expertise and extensive industry experience and knowledge, has enable PCN to provide superior services to oil and gas industry for our clients and partners.
 The company is driven by dynamic and aggressive management team with diverse expertise in engineering, finance, administration and management. Our team close relationship with operator enables us to be more customer-focused in producing viable solutions.
Our Commitment
We prioritize our commitment to emerge as a prominent and reputable company in the oil and gas industry in Malaysia. Our goal is to improve in managing our client's operation risk leading to a greater degree of success.
Business Segments
Petrochem Network (M) Sdn Bhd aim to become excellent service provider to the oil and gas sector in Malaysia. Our business focus on drilling rental equipment for offshore drilling services. Complete with storage yard, inspection and repair facility in Kemaman Supply Base (KSB), Petrochem will be able to provide highest quality of products, services and technical support to the industry.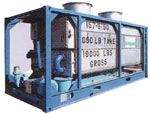 Container Geo-Cooler
The Container Geo-Cooler boasts the flexibility to serve customer needs on and off shore. read more >
Insulated Drill Pipe (IDP)

.
read more >